Hospital Management System
Zoho Books is a GST-ready accounting software that lets you send invoices, reconcile bank transactions, track inventory, generate reports, and file GST returns effortlessly.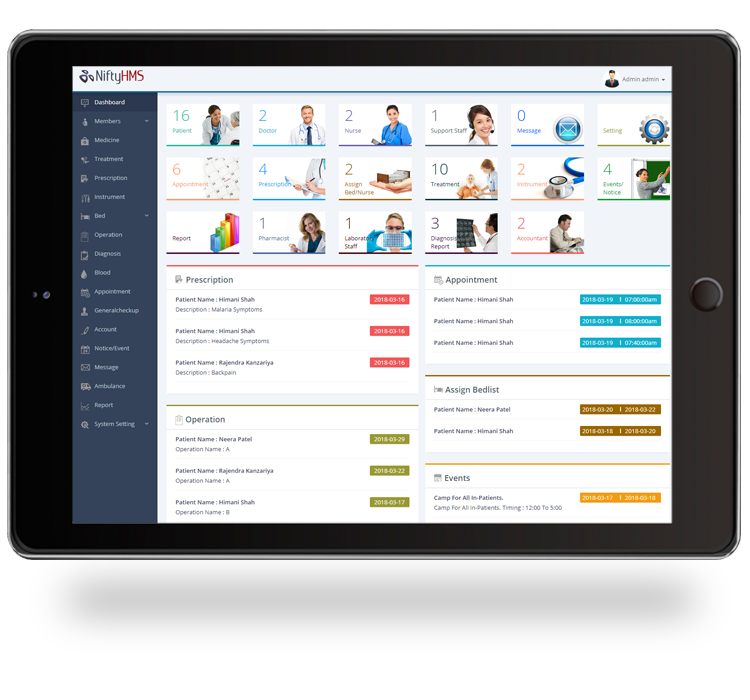 Doctor Module
Wirte prescreption to patient, Manage patient data and See Appoinment Calender.
Patient Module
Book appoinment with doctor, Check medicale history with doctor and check invoice.
Nurse Module
Nurse can manage patient , can assign bed to patient and manage ambulance.
Appointment Module
Make Appointment for Patients, Assign Doctor to Patient and Show Appoinment in Calendar View.
Perscription module
Add perscription with treatment,Complete list of perscription and Search and Sort records.
LAB Module
Log LAB report for each patient,Upload reports and write findings and Manage blood banks.
Diagnosis Report module
Complete list of diagnosis reports created,Add report for patient with costing and Search and Sort records.
Accountant module
Manage invoices in the system,Log income data and Log expenses of hospital.
Pharmastic module
Pharmastic can manage medicine stock data,View patient prescription,Manage medicine categories.
Medicine module
Complete list of medicine available ,Add medicine with price and supplier detail,Medicine stock detail with categories.
operation theatre module
Complete list of operations made,Add operation schedule operation with charges,Search and sort records.
support staff module
Support staff can admit patient in hospital,Records all patient and Guardian details,Can manage appointment module.
treatment Module
Complete list of treatment available,Add treatment with costs,Search and sort records.
Why do businesses choose
Zoho Books

for accounting?
GST
Compliant
We send GST compliant invoices, generate financial reports, do tax calculations, and help you file your GST returns without any hassles.
Straight
forward
Set up Zoho Books in minutes and start managing your finances immediately. If you get stuck, our support team and help resources can bail you out.
Scalable
Expand your business with automated payment reminders for thousands of payments. Our multi-currency invoicing makes global selling a breeze.
Customizable
Zoho Books automates your business workflows and lets you build layers of functionality to support the most unique business models.
Collaborative
Our role-based access lets you work together securely with your accountants and colleagues without additional user fees.
Simple and affordable pricing.
Add contacts and users

Create estimates and invoices

Track bills and expenses

Connect to secure, automatic bank feeds

Create projects and timesheets

Monitor inventory levels

Create sales order and purchase order

Generate business reports

File GST returns
Add contacts and users

Create estimates and invoices

Track bills and expenses

Connect to secure, automatic bank feeds

Create projects and timesheets

Monitor inventory levels

Create sales order and purchase order

Generate business reports

File GST returns
Add contacts and users

Create estimates and invoices

Track bills and expenses

Connect to secure, automatic bank feeds

Create projects and timesheets

Monitor inventory levels

Create sales order and purchase order

Generate business reports

File GST returns
Accounting on the go
Manage your financeswherever you go,
with the HMS mobile App